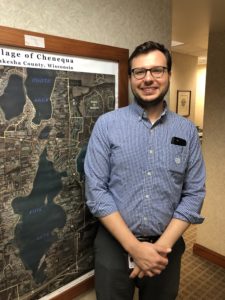 As of September 1st, 2019 Jacob Lipke will be taking over building department duties for the Village.
Building Inspector, Jabob Lipke
Contact Information:
Cell:  (262) 226-5007
Email:  buildinginspector@chenequa.org
Office Hours:
Tuesdays 2:30pm – 3:30pm
Thursdays 9am – 10am
Or by Appointment
For all permits issued PRIOR to September 1st, 2019, please continue to schedule inspections through SAFEbuilt at (262) 346-4575 or via email at waukeshainspections@safebuilt.com.
For all permits issued AFTER September 1st, 2019 please schedule inspections through Jacob Lipke via phone or email. He will be at the Village on Tuesdays from 2:30pm to 3:30pm and Thursdays from 9:00am to 10:00am or by appointment.
Thank you and Welcome to the team, Jacob!