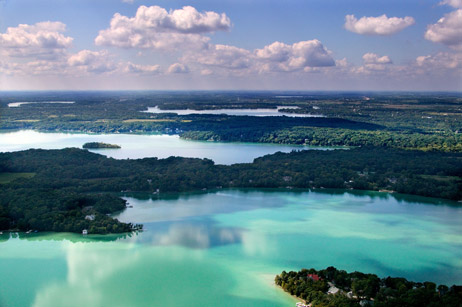 Aerial View of Beaver Lake. Photo by Jack MacDonough
The Chenequa Foundation
Your charitable donation helps make Chenequa a better place.
The mission of the Foundation is to benefit the Village of Chenequa through grants which will enhance the quality of life and services in our community.
Contributions may be sent to:
Chenequa Foundation
PO Box 18
Hartland, WI 53029
All contributions are fully tax deductible. Memorial gifts are welcome.
The Foundation has most recently funded :
Creation of this Chenequa Village Website.
Ongoing funds for the test well project to protect the watershed.
The scanning and digital recording of the entire history of the Village of Chenequa documents on searchable data files onto a new server.
New defibrillators in each squad car and in the Village Hall.
Epoxy coating of the Village Forestry Garage floor.
New squad car equipment including video equipment, Tazers and updated computer communications.
New ballistic vests for all of the police officers.

The Foundation was founded in 1979.  It consists of five trustees:
Richard Seaman, Chairman
JoAnn Villavicencio
Chris Elser
Dennis Doyle
Lisa Yewer