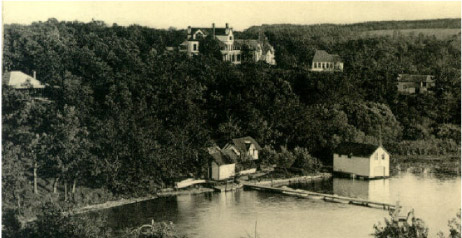 Historical Photo of Chenequa Hotel, Pine Lake
The History of Chenequa
The Village of Chenequa is located in the "lake country" portion of Waukesha County, about 30 miles west of downtown Milwaukee, Wisconsin. It completely surrounds the 703 acre Pine Lake, and includes portions of Beaver Lake and North Lake.
Known for its tree lined roads, the Village has been named a "Tree City USA" each year since 1985, and is one of the smallest communities so designated. Land use planning has been a key goal of the Village since its creation. Village zoning requires each non-lake lot to have a minimum of 5 acres, and lake lots require from 2 to 4 1/2 acres depending on lake frontage.
The name "Chenequa" comes from the Potawatomi Indian word for "pine", referring to a rare Southern Wisconsin grove of white pine. This same stand of white pine can be seen along the Eastern Shore of Pine Lake.
The Village of Chenequa was founded in 1928. The primary motivations to incorporate were to provide fire and police protection, and plan for the orderly growth of the Village while protecting the land and lakes. Since its inception, the Village has been conceived as an exclusively residential community. Current Village zoning code states, "The Village of Chenequa…is intended to be devoted solely to residence purposes so as to afford to its citizens the peace and quiet and restfulness unobtainable in the City." While this objective is being made more difficult by the explosion of development in the Lake Country generally, the Village remains committed to this concept.
While we remain committed to running a lean Village Government, we are also committed to being a highly responsive and service orientated government. We welcome your comments, questions and suggestions.
Map of Pine Lake and Vicinity circa 1895
Beautiful hand-drawn map drawn from a survey completed by J. G. Smith Civil Engineer, Pabst Building, Milwaukee, Wisconsin.
Historical Postcards and Photos of Pine Lake and Beaver Lake
Donald Wiemer has a collection of postcards and historical photos from Pine Lake and Beaver Lake that he has graciously shared with us for this website. The images are a part of his larger "Lake Country" collection of over 2,000 cards from 1905 through the 1930's.
View the Pine Lake Gallery (100 images)
View the Beaver Lake Gallery (100+ images)
Fire Map of the Village of Chenequa
Compiled April, 1930.
Revised September 1930 & June 1933
Literature about Chenequa
William F. Stark is the author of a three historical books about life in Chenequa.
Pine Lake Saga, 1952
Pine Lake, 1971
Pine Lake, 1984 (Update to the 1971 edition)
Library of Congress Catalog Card Number 84-062051. Zimmermann Press, Sheboygan, Wisconsin. 268 pages