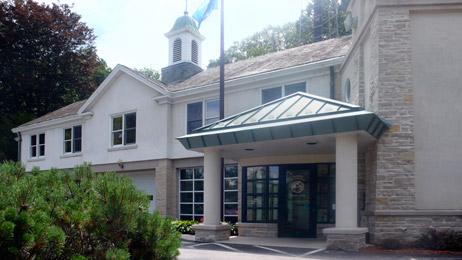 Village Hall, Photo by Lauren Hanaman
Assessor
The role of the Assessor's Office is to determine, list and value all taxable property in the Village of Chenequa according to state law. The assessor's goal is to provide accurate and uniform values to ensure that the burden of taxes is distributed in a fair and equitable manner.
By state Statute, the assessment of all property is to be based upon its fair market value as of January 1 of each year. Fair market value is generally considered to be the price the property owner could expect to receive for it if it were sold on January 1 of that year.
Preliminary Value listing for 2023 – Open Book by street now available as of June 2023.
Virtual property records are available that reflect assessed values as of September 8, 2022.
If you have specific concerns regarding the assessed value of your property; or if you have questions regarding the assessment process, please do not hesitate to contact our department.
Appointments are now being made to review property assessments with Village Assessor Mark Link of Tyler Technologies.  Please read the instructions and complete the request form for an assessment review.
The Village Assessor is Tyler Technologies
Mark A. Link
14665 W Lisbon Road, Suite 2D
Brookfield, WI 53005-1687
Email mark.link@tylertech.com
Telephone 1-800-959-6876 ext. 1
Disagreeing with an Assessment
If you do not understand how your assessed value was calculated or disagree with your assessed value, contact the Assessor's Office.
While you can appeal your assessment directly to the Board of Review, it is highly recommended that you first contact the Assessor's Office during open book. Minor errors and misunderstandings can often be corrected at an informal meeting with the Assessor's Office first.