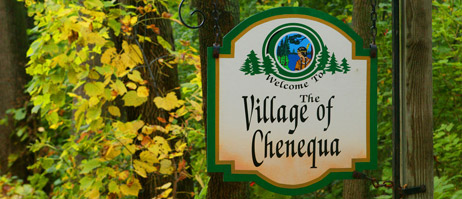 Chenequa Sign Near Village Hall, Photo copyright Jack MacDonough
Boards, Commissions & Committees
The following is a list and description of Appointed committees, commissions and boards serving the Village of Chenequa. View the Current Village Officials List.
In order to view and download the forms, Adobe Acrobat Reader must be installed on the computer. Download a free updated version of Adobe Acrobat Reader.
Public Safety Committee
Created by Board resolution to provide policy and budgetary oversight of the Police and Fire Departments, emergency medical services, hazardous materials team, large scale emergency/disaster planning and other public safety functions of the Village.  Appointed annually by Village Board.  Oversees implementation of Deer Management Plan.
Operations Committee
Created by Board resolution to provide policy and budgetary oversight for Highway/Forestry, lake management, Pine Lake Access, Village owned property, garbage collection, recycling and other day-to-day operational matters.  Appointed annually by Village Board.
Board of Appeals
Board is required by Wisconsin Statutes.  Per Statutes and Village Ordinances, hears appeals of zoning decisions and building board decisions.  May grant exceptions to zoning ordinances in cases of undue hardship.  Appointed by Village President, subject to confirmation by Village Board.
Board of Review
Per Wisconsin Statutes hears appeals of new or changed assessments.  Required membership is Village President, Village Clerk, and Village Trustees as regular member and alternate.  Trustee members appointed by Village President subject to Board confirmation.
Plan Commission
Per Village Ordinances, reviews new/altered structures to determine if exterior architectural appeal or functional plan causes substantial depreciation in neighboring property values.  Is responsible for Master Plan, Official Map, review of new zoning ordinances, reports/recommendations regarding: Village development; purchase/sale of public property; and construction or modification of public buildings.  Village President appoints annually in May, subject to Village Board confirmation.
Police Commission
The Police Commission shall approve promotions appointed by the Police Chief.  The Commission may also suspend, reduce in rank, suspend and reduce in rank, or remove a member of the Police Department.
Open Space Committee
The Open Space Committee was created by Village Board resolution to assist with and to encourage implementation of the Open Space Plan adopted by the Village Board.  The Open Space Plan is designed to encourage, on a voluntary basis, the preservation of open space in the Village.
Board of Election Inspectors
Per Wisconsin Statutes, supervises elections and election counts.  Appointed to two year terms by Village President, subject to Board confirmation.
Hwy 83 Task Force
The Highway 83 Task Force reviews issues pertaining to the main North-South thoroughfare in Chenequa.
Personnel Committee
This Personnel Committee assists with hiring decisions for the Village of Chenequa.
Lake Country Fire and Rescue
The Lake Country Fire and Rescue group meets to discuss issues pertaining to LCFR that serves Delafield, Nashotah and Chenequa in the Lake Country region.
Lake Management Ad-Hoc Committee
The Lake Management Committee is concerned with issues pertaining to the long-term and short-term outlook of the lakes and water issues in Chenequa.