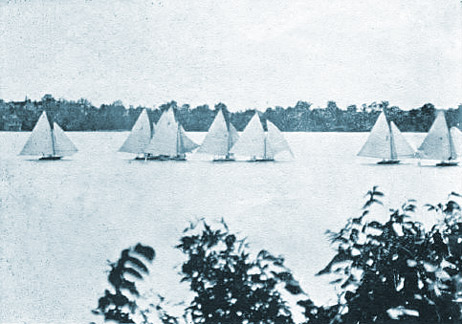 Historical Photo, Pine Lake Regatta
Resource Links / Groups
The Village of Chenequa is fortunate to be home to 3 lakes: Beaver Lake, North Lake and Pine Lake. These lakes are central to the community in the Village of Chenequa. Below is a list of organizations that benefit the Lakes and the greater Lakes community.
Regional and State Lake Links
Wisconsin DNR — Understanding Lake Data
This "Guide was written to help people understand information about lake water quality and to interpret lake data. Each lake possesses a unique 'personality,' or set of physical and chemical characteristics which may change over time. Lakes exhibit chemical changes on a daily basis while other changes, such as plant and algae growth, occur seasonally." It discusses physical characteristics, chemical properties, dissolved gases, carbonate systems, includes bibliography, references and glossary.
Wisconsin DNR – Pine Lake Data
Data provided from water monitoring by Village of Chenequa. This annual report displays Secchi, Chemistry and Temperature/D.O. profiles (where applicable) for a year. There is also an archive of previous years available for viewing.
Southeastern Regional Planning Commission Reports for Pine and Beaver Lakes
Enter Pine Lake in "Search Publication Titles" box. Click on individual report for viewing via PDF. The most recent report is:
Memorandum Report, No. 173 from October 2008; 122 pages
An Aquatic Plant Management Plan for Pine and Beaver Lakes Waukesha County Wisconsin
UW Extension Lakes at the University of Wisconsin – Stevens Point, College of Natural Resources, Wisconsin LakesThis website covers a wide range of information including, lake ecology, organizations, programs, resources, lists, tides, laws, grants, economics, conventions and lake tides polls.
Wisconsin Association of Lakes | www.wisconsinlakes.org
The Wisconsin Association of Lakes is the only statewide non-profit organization working to protect and enhance the quality of Wisconsin's 15,000 lakes. WAL is the citizen arm of the Wisconsin Lakes Partnership.
Local Lake Groups
Pine Lake Yacht Club | www.plyc.net
The PLYC website features an annual calendar, race committees, sailing school, and information on the island use policy. The earliest commodore is 1890–1899 Fred Rietbrock .
Friends of Beaver Lake | www.blfriends.org
The FBL educate, collaborate and act to protect Beaver Lake's ecosystem for the enjoyment of all lake residents.
North Lake Management District | www.nlmd.org
NLMD exists to provide historical and current detailed information about North Lake.