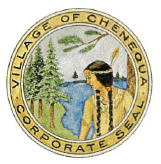 NOTICE OF PUBLIC HEARING
Monday, February 11, 2019, 6:30 p.m.
ALL INTERESTED PERSONS ARE INVITED TO ATTEND AND BE HEARD
NOTICE IS HEREBY GIVEN that a Public Hearing will be held by Village Board of Trustees on Monday, February 11, 2019 at 6:30 p.m. at the Village Hall, 31275 W County Road K, Chenequa, Wisconsin. The following matter will be heard:
Ordinance to Amend and Restate Sections: Chapter 6.3(2) Accessory Structure
6.3(22) Indoor Recreational Facilities; and Chapter 6.7(4)(i)-(vi) Modifications to Legal Nonconforming Structures

The purpose of the public hearing is to accept public comment on the proposed amendments to Chapter 6. The proposed amendments to Chapter 6 can be viewed on our website or it may be reviewed at the Village Hall, 31275 W County Road K during normal business hours (Monday through Thursday, 8:00AM – 4:30PM and Friday, 8:00AM to 3:00PM). For further information regarding the public hearing, please contact Robert Douglas, Village Administrator at 262-367- 2239 . Written comments may be submitted to the Village Clerk-Treasurer until the public hearing is closed.
Respectfully submitted:
Pamela Ann Little, Clerk-Treasurer
To be Published in the Lake Country – NOW (1/27/19 & 2/3/19) Sent via email to Village Residents
(1/28/19 & 2/4/19)
Request from persons with disabilities who need assistance to participate in this meeting or hearing should be made to the Village Administrator with as much advance notice as possible .
NOTICE OF POSTING TO VILLAGE HALL LEGAL BOARD & WEBSITE
Village Clerk-Treasurer posted this notice on Thursday, January 17, 2019 @ 1 PM
Phone 262-367-2239 • www .chenequa .org