We will be going green starting the next issue!
If you would like to continue getting a hard copy mailed to you, please email policeclerk@chenequa.org or call 262-367-2145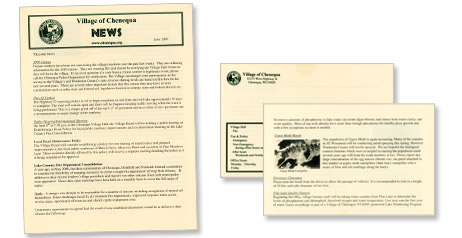 Chenequa Newsletter. Stay in touch.
Current Newsletter
Employees at the Village of Chenequa publish a newsletter on an as-needed basis. When there is information that you need to know about the village, check out the newsletter and the website. In the near future, the village would like to also make the newsletters available via email. You can sign up to receive these newsletters as a PDF via email under the Email Updates of the eServices portion of this website.

 Download a digital version of the most recent newsletter here.
If you have missed or misplaced a newsletter, back issues are archived on this site under the News section.